Picking the correct dinnerware is a must if you want to impress your guests, and enjoy your special dinners the right way.
Nothing is worse than having a cheap dinnerware set that doesn't live up to the expectations of your guest or your dish. 
People who are just starting out with purchasing dinnerware always ask the same questions.
Why dinnerware is so expensive?
The reason why dinnerware is so expensive is because the materials that make-up dinnerware are not easily obtained, impressive pieces are hand-made and take a minimum of 2-3 days to complete.
The creation of dinnerware is incredibly interesting, when you take into account the different materials and work that goes into it.
More information on why dinnerware is so expensive, the dinnerware creation process, and expensive brands is below.
Why dinnerware is so expensive
Handmade Increases Dinnerware Price
Jono Pandolfi is a company that is creating high quality Made in USA dinnerware for some of the top restaurants in the world (Source). These restaurants are usually 5-stars or higher like Eleven Madison Park (Source).
With serving an audience like this, these products can not be cheap.
One of the key reasons for the high prices that you see for these expensive dinnerware pieces is because all of these pieces are hand made.
Another Reason Why Dinnerware is So Expensive
Most expensive dinnerware is hand crafted based on user designs and requests.
For example, Jono Pandolfi has over 57 shapes and 1,000 molds in production.
This also includes a ton of different types of clay and glazes that can also be added onto the request.
Not all dinnerware has to take a toll on your wallet, like the dinnerware mentioned in our best Best Dinnerware Made in USA  guide, we go over dinnerware that doesn't break the bank.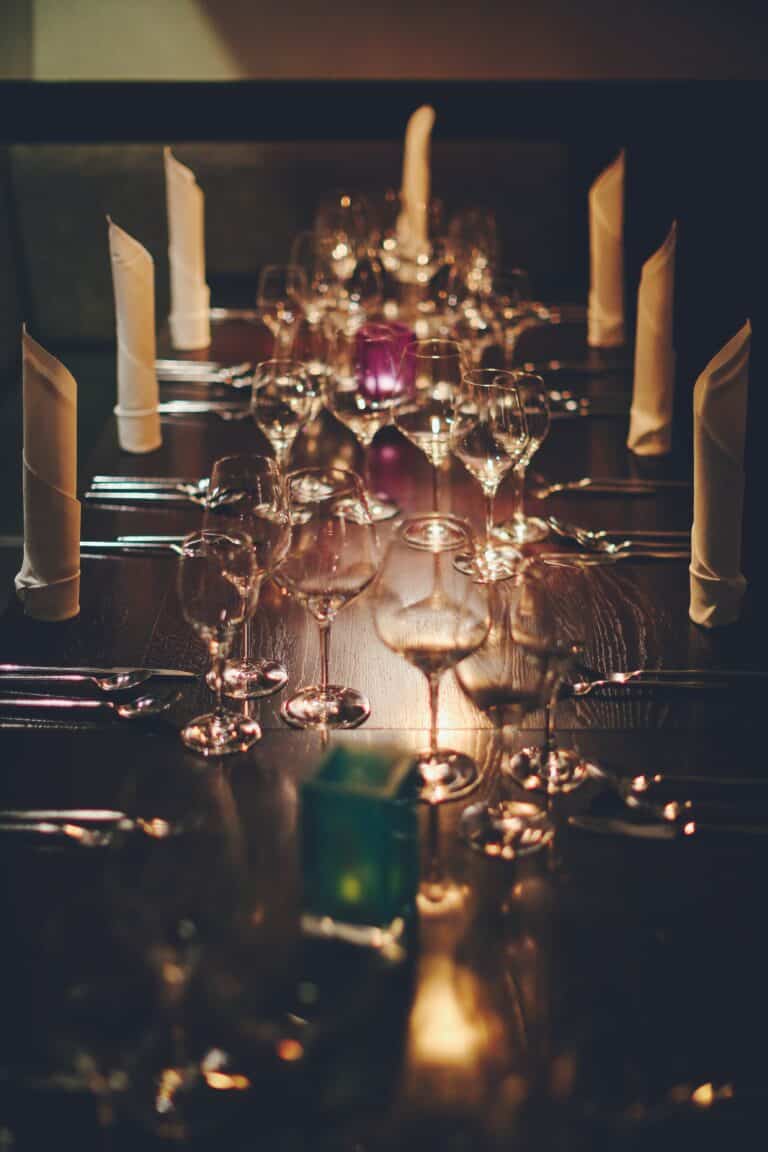 How long does it take to make Dinnerware?
From start to finish, Dinnerware can take anywhere from 2 days to multiple weeks. This timeframe is without counting how long it takes to source the materials. Some higher end pieces with special designs can take months as artists spend a lot of time on perfecting the designs.
Dinnerware Usage VS Price
| | | | |
| --- | --- | --- | --- |
| Dinnerware Material | When to use | How long it lasts | Price |
| Bone China (Subset of Porcelain) | Special Occasions | Lifetime | Expensive |
| Porcelain | Special Occasions | 0-2 years | Moderate-High |
| Earthenware | Everyday | 2-5 years | Moderate |
| Melamine | Everyday | 2-10 years | Moderate |
| Stoneware | Everyday | 2-5 years | Moderate |
| Plastic | Everyday | 0-2 years | Cheap |
Expensive Dinnerware Brands
What is Bone China
Bone china is a subset of porcelain, which is famously made from bone ash and kaolin.
By far the strongest and most durable of porcelains, artists are able to create a a more elegant thinner piece.
Bone China quickly becomes expensive due to it's unique make-up. 
Bone ash is obtained from animal bones.
Bone China is avoided by many human right activists and vegans due to it's Bone ash make-up.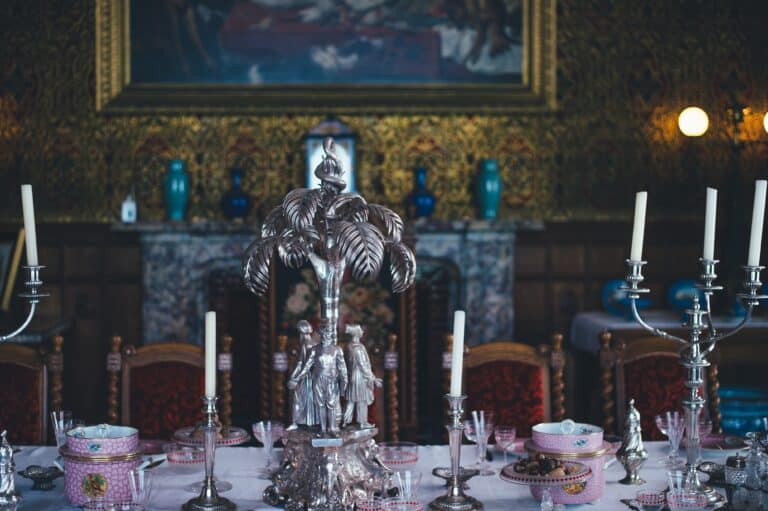 How Dinnerware is Made
Creating these ceramics is a highly manual process. First, the artists will spend time running their clay through a pugmill, which will remove all of the excess air from the clay.
Doing this makes the clay workable. If there were to be air in the clay, the clay would collapse or contour at different angles as the air would escape at different times throughout the process.
The Pugmill spits out the clay in thick logs for the artists. These logs are easy to store, but aren't able to be worked easily for the artists.
Once brought out, the artist will take note of the size of the piece they are making.
For bigger pieces, they may need to combine logs to create enough surface area.
The clay logs will then be ran through a slab roller to form a sheet.
Here is where things will get tricky. 
The artist will already have a mold in mind, and needs to make sure whatever piece that they do cut out fits into the specific mold.
The artist will cut away a piece of clay from the sheet, that corresponds to the size of the mold they plan to use.
Jiggering
Jiggering is the process of shaping the clay. This process will be done by hand that has basically standardized the wheel throwing process.
First, you will have your piece of clay rotating on the wheel. You'll want to make sure there is a decent amount of moisture and that there are no air bubbles that have gotten through.
A foot petal will be pressed to turn the wheel, and you'll slowly bring down the jigger arm that has the unique design for your expensive dinnerware piece.
This step will remove all of the excess clay from the soon to be dinnerware piece.
Blades are a hot topic in the ceramic world. 
As the design and quality of the blade has a huge effect on the final piece, artists will create their own blades.
For example, Jono Pandolfi creates all of their blades in studio.
Relevant Viewing:
Drying
Once your piece has been shaped, it will be sent to drying racks from anywhere to an hour to a couple days.
Remember, the mold is still on the piece here. With wet clay, we can not remove the mold yet as the piece will fall apart.
Once the time is up, the mold is removed and the excess of the clay is trimmed down. 
You will want to do this while the clay is still a little wet, as it will be way easier to do these final edits with damp clay.
Once final edits are done, re-place the piece back on a drying rack for at least another night.
First Firing
Once the piece has dried, it will be fired to upwards of 1700˚F in a electric bisque (Source). These Kilns do not heat up very quickly and add heat very slowly overtime.
This slow increase of heat removes any water from our dinnerware that has survived this late in the process. 
Glazing
With the first firing done, you will now have a porous piece of dinnerware. 
You can stack and store the dinnerware now, as it has hardened to a safe shape.
Now, glaze will be applied to the piece.
Most glazes are hand-made by the artists, and one of the distinguishing points in differentiating these expensive dinnerware pieces brand to brand.
Final Firing
Once the glazing is done, the piece is put back into the kiln overnight.
This time, the electric bisque will be fired to upwards of 2200˚F.
After this step, the beautiful piece is finished with a unique, hand-made design for a happy customer.
Final Thoughts
As we've seen, dinnerware can get expensive really quickly.
With such an in-depth process, from two different firings to hand making each piece – the price isn't surprising.
However, there are some quality dinnerware pieces out there that will not break the bank.
Dinnerware doesn't always have to be expensive. You can find a piece that works for YOU based on YOUR personal preferences.
Finding the correct materials or dinnerware that matches your personality is not easy.
If you're looking for the Best Dinnerware Made in USA we have a guide that gives a deep-dive into the different pieces that you can buy.
FAQ
Why are porcelain dishes expensive?
The reason porcelain dishes are so expensive is because porcelain is non porous, making it incredibly durable. This allows the dishes to be both microwave and oven safe. This increases the cost of the material.
Why are some dinnerware more expensive than others?
Some dinnerware is more expensive than other types because of the material it is made from, and the labor hours put into the custom designs for high-end pieces.
Latest posts by Stewart Kaplan
(see all)